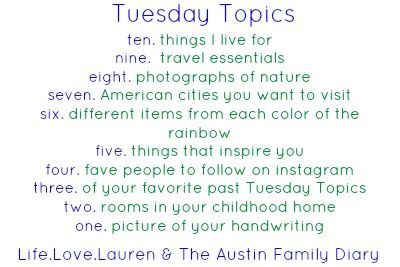 one. my nephew's smiling face. he's got a long, thin face, like his father, with owlish eyes. he watches things. he's always watching things. studying them. and it's so obvious that the wheels are turning, and you want so much to know what he's thinking. but you also want to turn that thoughtfulness into laughter. or at least i do. perhaps because i'm kind of like him in this respect, and i'd rather see him grinning and giggling.
two. my niece's hugs. she'll hold on to you so tightly. for so long. it's beautiful, really.
three. my bed at the end of a long, long day. like today. and yesterday. and the day before that... the international customers are finishing up their holidays. soon they'll return to mexico. but at the moment, they come en masse (all at the same time, it seems) and destroy our store. it took us ninety minutes to clean up after them today. on a typical monday night, we're out half past closing. a ninety-minute close is normal for the week before christmas on a friday or saturday night. but a monday? not so much. even for the summertime. i am plum tuckered.
four. great stories. i probably like the ones told in songs the best. examples: the airborne toxic event's sometime around midnight; tori amos' precious things, sara bareilles' between the lines; counting crows' round here; a fine frenzy's almost lover; the fray's vienna; hootie and the blowfish's not even the trees; indigo girls' prince of darkness; journey's faithfully; lisa loeb's stay; ingrid michaelson's the chain; anna nalick's breathe; pearl jam's jeremy; switchfoot's on fire; temple of the dog's say hello to heaven; third eye blind's the god of wine.
five. my characters. when they're playing well with each other, when they're playing well with me, it's incredible, really, how good i feel about the world, about my presence in it. i feel the greatest sense of accomplishment when i find just the right words to tell their stories, when the telling is seemingly effortless (because when it comes to me clearly, it IS effortless, really... and quite a rush);
six. compliments.
seven. kindness.
eight. aimless drives through the country. sometimes the best way to recharge my battery is to get the car washed, fill the tank up, put in some good tunes and grab a can of dr. pepper and just go.
nine. hope.
ten. quiet. like right now, i hear little more than the whir of the air conditioning, the clack of my fingers on the keys, the hum of the fan and the constant beat of the night outside. after watching my brother's children (god love'm) for about six hours or so and then going to work to watch other people's children trash my store, the little i hear now is a godsend.